"By failing to prepare, you are preparing to fail." – Ben Franklin Like many things, planning and organizing a move helps to insure that things go as smooth as possible. Give yourself plenty of time to organize for your move. Sometimes that is not always possible, but if you have the luxury of being able to plan far out in advance, structure your time so you can pack up your household and keep it in order!
"By failing to prepare, you are preparing to fail."
– Ben Franklin
Two Months Before
17.____ Get Ruthless
When was the last time you really used that fancy stereo system you have been hanging onto since the late 90's? Finally need an excuse to trim down the toy pile? Here is a good litmus test for sorting what stays and what goes: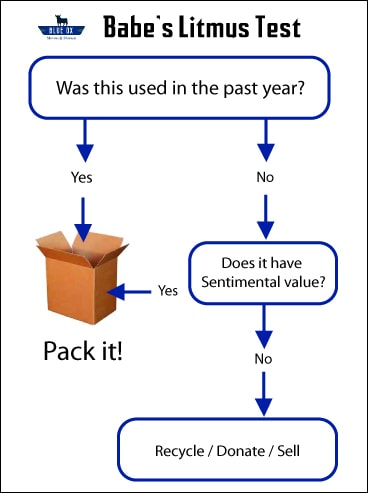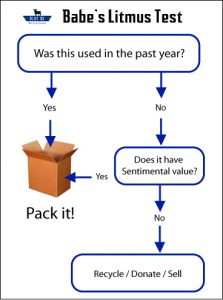 16.____ Create a Moving Folder
Use a binder to keep up with all the critical information related to your move. Use this to store things like contact information, inventory, maps, checklists, ect. Consider keeping this as a hard copy document. It sounds cumbersome, but you won't have to find an outlet to get the information you're looking for.
15.____ Organize school records.
Stop in at the schools office and ask that their records be transferred to their new schools. The office staff does this fairly regularly and should be able to assist with this process.
Six Weeks Before
14.____ Order supplies.
This is a good time to gather all the packing materials you will need. For things like boxes, bubble wrap, packing paper, and moving blankets, Our Blue Ox Moving Specialists can provide an estimate and deliver materials to your door.
If you are planning on collecting boxes, now is a good time to get started. Check out this post for some tips on finding free boxes: Free Boxes
13.____ Measure Twice, Move Once
If you are moving into a new home, ask around and see if you can get a the floor plan. If that is not possible, try to get measurements. Knowing what kind of space you will have and how much clearance you have to move furniture into your new home will go a long way in helping plan.