Choosing a city to move to is not easy. Factors like accessibility to great schools and community parks are just a few that one usually considers. It is best to narrow down your options to at least two cities and then start digging deep on what you need in the city you would want to live in.
Sitting just 30 miles west of Houston, Katy, Texas is home to beautiful master-planned communities and excellent schools. Once a rice farming town, Katy now is a charming "Tree City" with abundant green space, recreational opportunities, and historic homes.
While the cost of living may slightly be higher than in Houston, overall, this comes from the higher median home cost. Katy has homes priced from $200,000 to over a million, so there is something for every price point. Well-appointed floor plans and amenities can be found in all of the communities of the area, with the top master-planned communities being:
Communities
There are a lot of beautiful communities to choose from in Katy. Each community has its own character, making it unique and livable. To help you choose, here is a list and a short description of the communities in the city:
This resort-style community offers waterparks, pools, a beach club, and peaceful walking trails. As the largest residential community made up of smaller villages, it has been named one of the top 20 master-planned communities in the country. The schools, including Cinco Ranch and Seven Lakes High Schools, have been regularly high-ranked.
Kelliwood's grand homes and streets lined with mature trees make it a favorite for Katy residents. Several neighborhoods are gated, and the area offers access to some of Katy ISD's top schools, including Taylor and Seven Lakes High schools.
This Fort Bend County neighborhood is home to Seven Lakes High School. These traditionally designed homes surround Meadowbrook Farms Golf Course, playgrounds, swimming pools, tennis courts, and a fitness center within the Seven Meadows clubhouse. Community events are regularly held at the community's green space, Central Park.
Developed by Newland, the same group that gave us Cinco Ranch and Seven Meadows, this community welcomes new residents at their welcome center, Elyson House and Café. Elyson keeps those with active lifestyles busy with tennis courts, a fitness center, and swimming pool. The community is working on an upscale shopping center and restaurant.
This four-phase master-planned community offers mature trees and community events. With over 2000 beautiful homes zoned to highly rated Katy ISD schools, the community is home to fully stocked lakes, tennis courts, pools, putting greens, dog parks, playgrounds, and several walking trails.
Schools & Libraries
Of course you would also need to check schools in the area. Niche has named Katy Independent School District the best in the Houston area and included 19 of its elementary schools in the top 25 "2020 Best Public Elementary Schools in the Houston Area" list. Cinco Ranch and Seven Lakes High Schools are among the top 100 schools in Texas.
Spanning 66 campuses that educate 83,000 students, Katy ISD earned an "A" district rating from the Texas Education Agency, an "A+" from Niche, and an "A" from the Texas Schools Financial Accountability Rating System. The district consistently delivers a 95-98% graduation rate. Keep in mind when looking for your home, one single neighborhood may be zoned to several schools, and as the area develops, districts may change shape.
The Katy area also offers several private schools to choose from, including:
Libraries such as Harris County Public Library and Fort Bend County Library – Cinco Ranch are easily accessible.
Business & Recreation
The City of Katy works diligently to provide, promote, and encourage economic development in the area. As a member of the Katy Area Economic Development Council, Greater Fort Bend Economic Development Council, and the Waller Country Economic Development Partnership, they proactively work to improve infrastructure and beautification to keep businesses coming to the area. As members of the Greater Houston Partnership and The Texas Economic Development Council, the city promotes economic and employment opportunities. 
Looking for a place to shop or dine? Katy Mills Mall draws shoppers from around Katy and beyond with the only indoor outlet shopping center in the Houston area. The mall is home to 165 stores, including Kate Spade, Ralph Lauren, and Cole Haan. Residents can enjoy meals from Rainforest Café and Kimo's Grill. This is where you will find the outdoorsman's paradise Bass Pro Shops.
If you are not into shopping, but instead prefer the great outdoors, Katy is also home to several community parks with walking paths, wading pools for dogs, baseball fields, soccer fields, a basketball pavilion, tennis courts, and playgrounds. There are even golf courses nestled within master-planned communities. With best-in-class amenities and event spaces, Katy golf clubs offer more than just a trip around the green.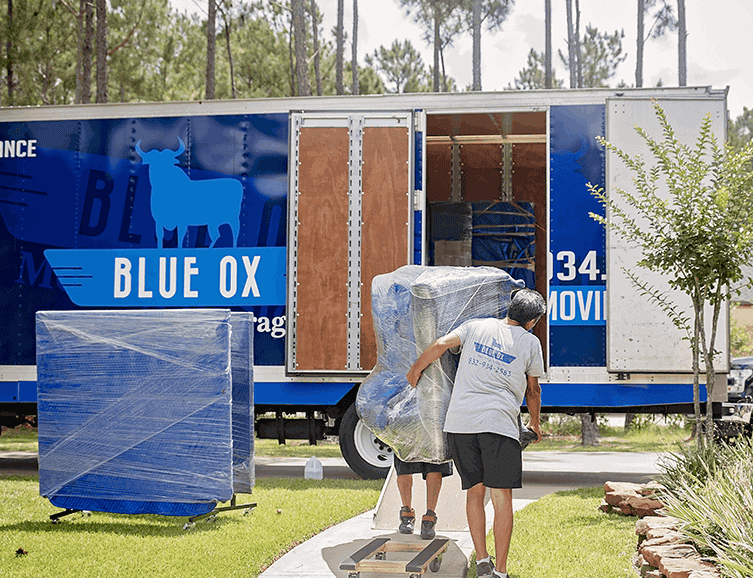 You won't even have a hard time moving to Katy. Other than great accessibility of the basic services like utilities, cable and garbage disposal, professional Katy movers are available to make your move easier.
Professional Katy movers would get your belongings from your old home and help you set up efficiently get you set up in your new home and alleviate much of the stress involved in moving.
When looking for Katy movers, contact directly Blue Ox Moving & Storage to discuss your upcoming move. While preparing for your move, use the Ultimate Moving Checklist to keep you organized and on track.