Moving is a process that takes time and planning. Every household has delicate items that make the job even more challenging. The thought of hearing glass shatter on your moving day can send chills down your spine. It can be difficult, but with a bit of patience and preparation, your relocation is bound to go smoothly. With this ultimate guide for packing fragile items, all of your valuables will surely arrive safely at your destination.
Tips for packing fragile items
When packing fragile items, the first thing you need to do is get all the necessary supplies to protect them during transport. Boxes tend to go through a lot during relocation, so you will need to pack and secure your delicate items well and with proper materials. Essential supplies that you will require are:
Boxes
Standard and reinforced packing tape (for heavier items)
Packing paper, old newspaper
Bubble wrap
Packing peanuts
Markers
Invest in sturdy boxes
Sturdy boxes are the best choice when it comes to packing fragile items. Your boxes must be firm and durable in order to transport breakable items to your new home safely. Smaller boxes work better because they provide less room for shifting around, plus they are easier to handle. Investing in sturdy boxes would be wise, but if you want to save some money, there are ways to find great free boxes as well.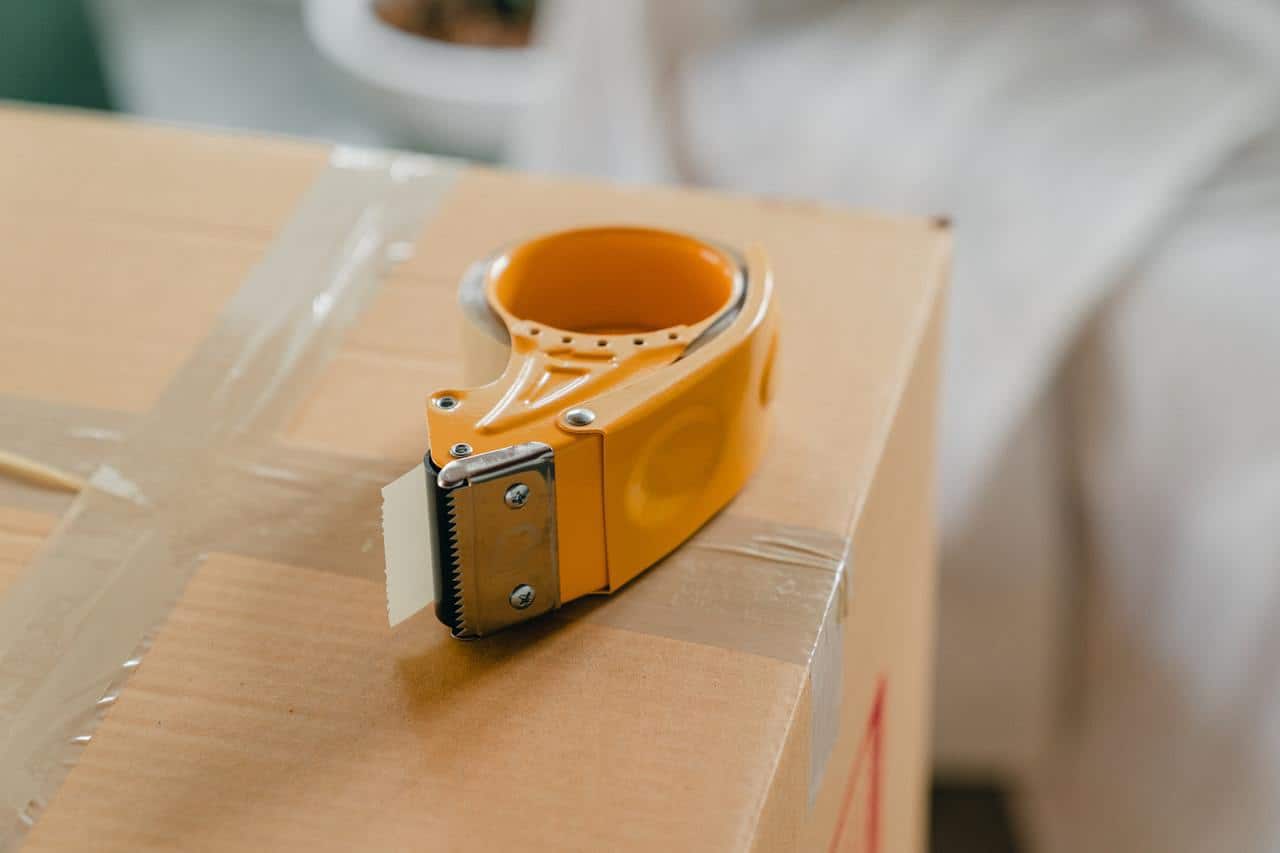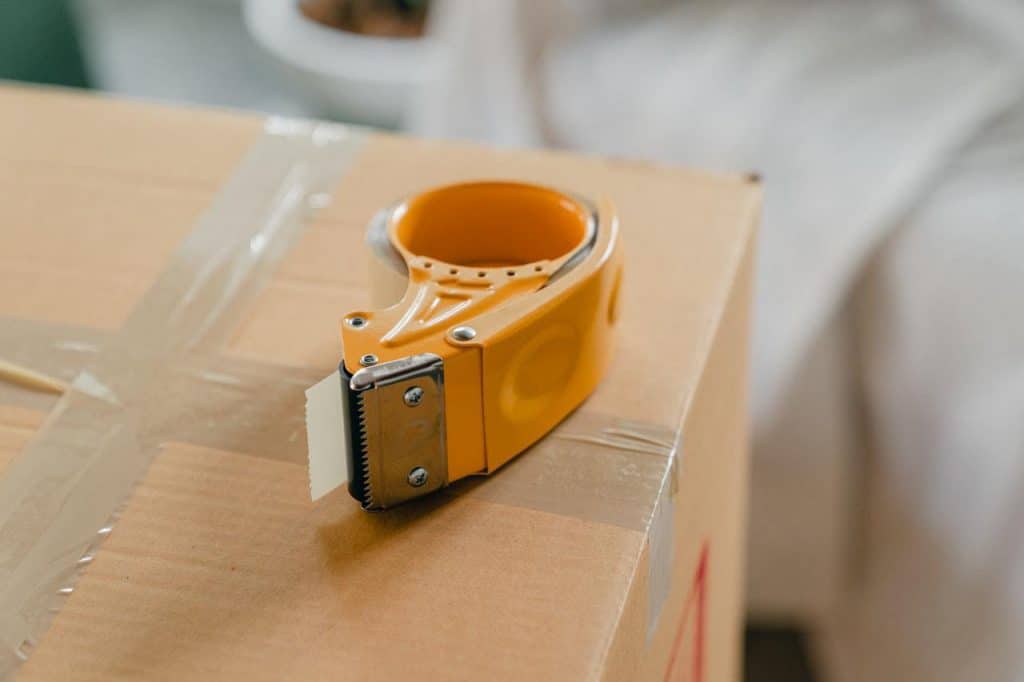 Before you put your fragile items in the box, you will need to make a cushioning base layer. You can use a soft material or fill the bottom of the box with packing peanuts.
You will want to use tape to secure all corners and seams. An extra layer of tape on the bottom will ensure the box doesn't give in under the weight of everything inside. This step is critical for keeping all of your fragile items safe.
Wrap your fragile items
When getting delicate items ready to go in the box, you need to wrap them with protective materials such as bubble wrap, recycled newspaper, old towels, etc. Items that are easy to scratch should be wrapped in a soft cloth first and then protected with another, thicker layer. It's a good idea to use extra material around delicate areas. Newspapers are a cheaper alternative to packing paper, but beware of possible ink stains on your valuables.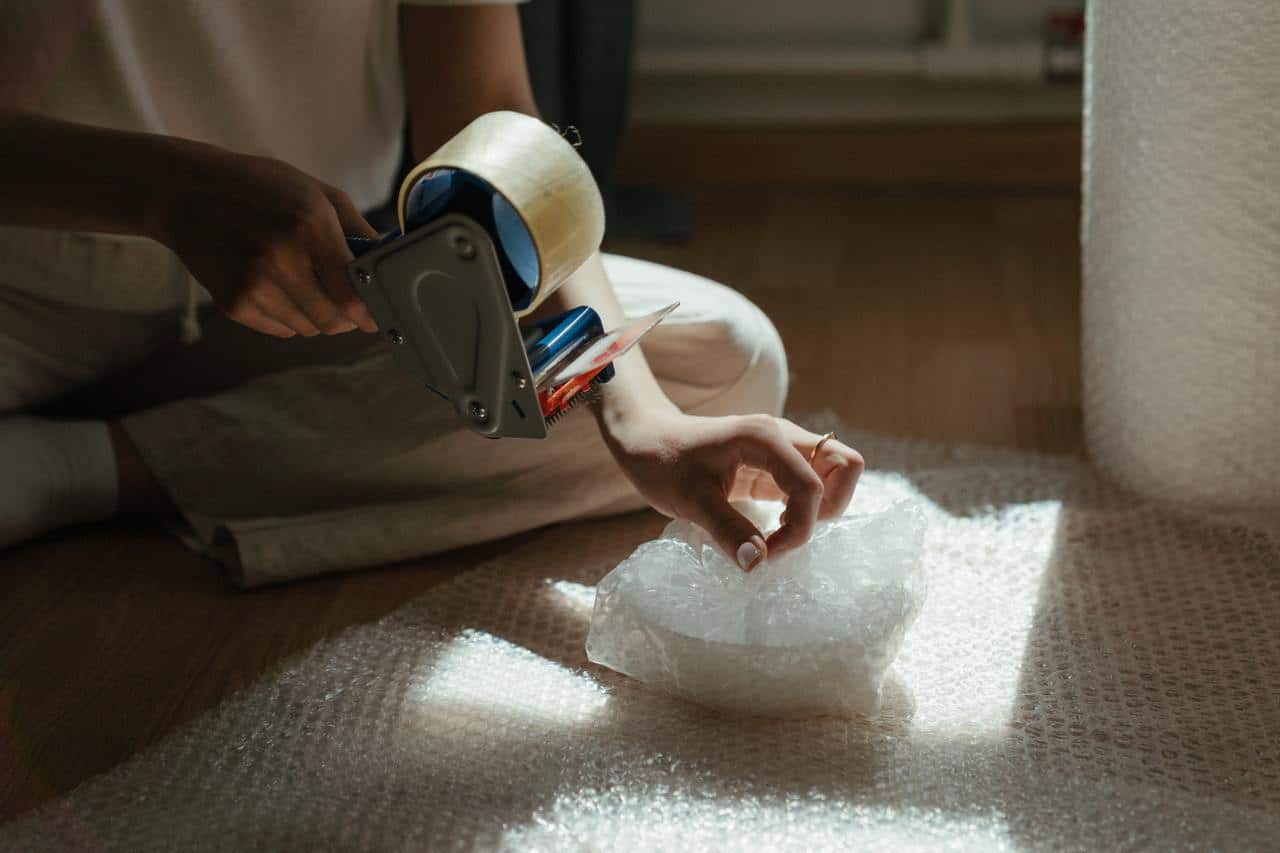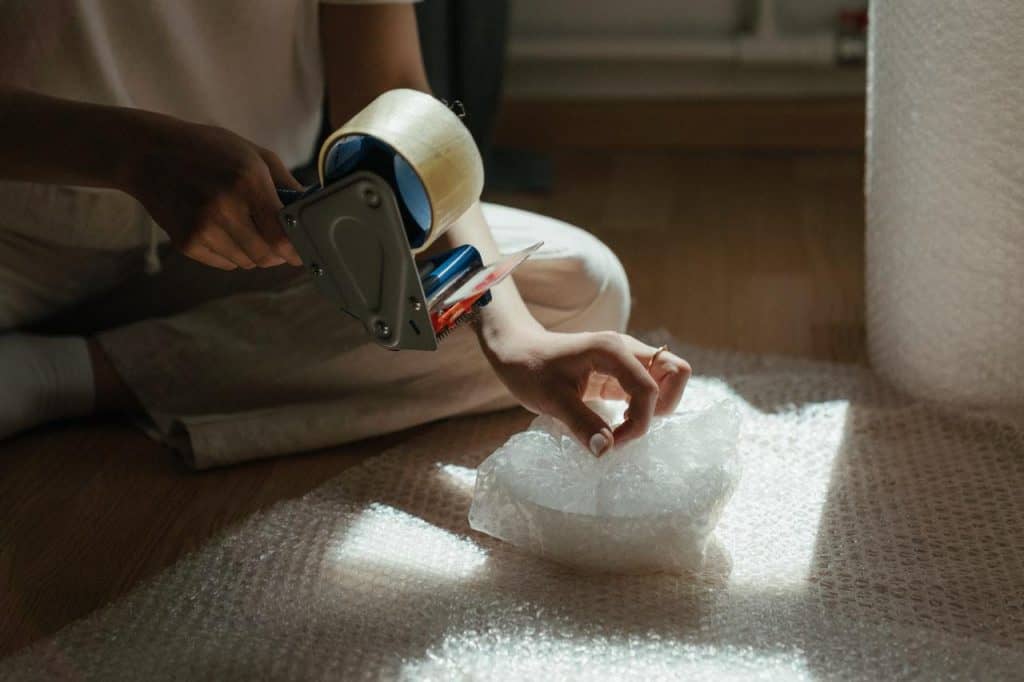 Fill hollow spaces
You will need to fill any empty spaces and holes to ensure that there isn't much movement inside the box. This can be done with paper, packing peanuts, or even your clothes. Filling the empty spaces is particularly important for packing items with sharp edges. The same goes for the insides of glasses, cups, jars, and other hollow items. Add more cushioning on the top of the box before you seal it if you want an extra step of security.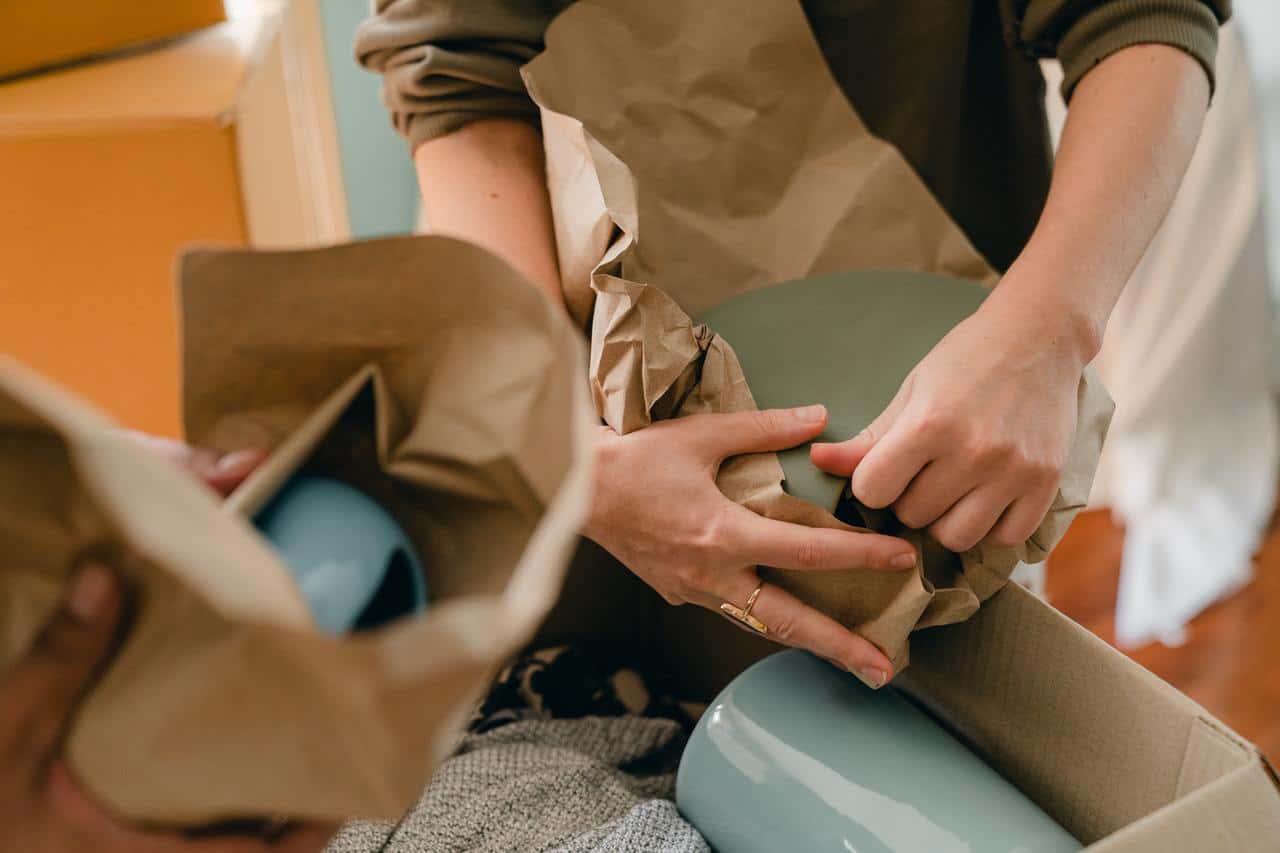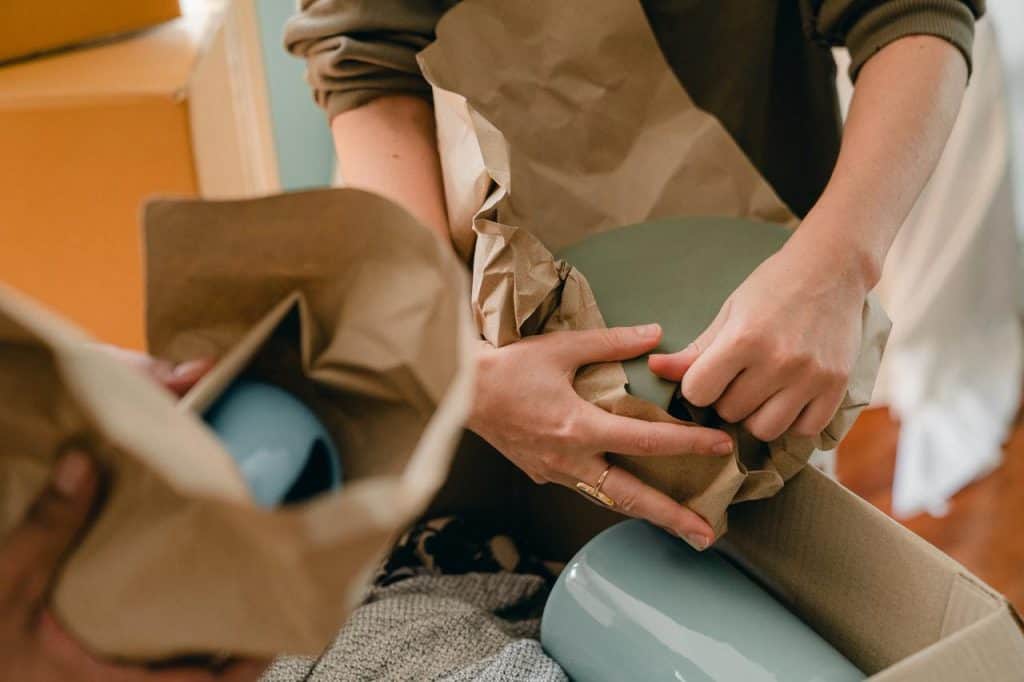 Packing similar items together makes it easier to organize them. Plates and cups can be stacked on top of each other, but bear in mind that you should put a barrier between them and wrap them individually. The more friction there is between them, the more likely they are to get damaged.
You can get pre-divided boxes or dividers of specific dimensions and shapes for items such as dishes or glassware. This will make your job easier and keeps things from tumbling around the box.
Put delicate items on top
A good rule of thumb is to put the heaviest items on the bottom of the box. Layering your items ensures they have enough support and helps avoid crushing during transport. You can apply this rule when loading the boxes in the truck, as well.
Label your boxes
The most important part of the entire process is to label all of your boxes with fragile items explicitly. You can use a marker or get stickers with the word fragile on them. If you don't mark the boxes correctly, there is a possibility they will get mixed up with other things and not get the special care they require. Make sure to be ready when the movers come. By being properly prepared on your moving day, you will avoid miscommunication and ensure your fragile items are protected.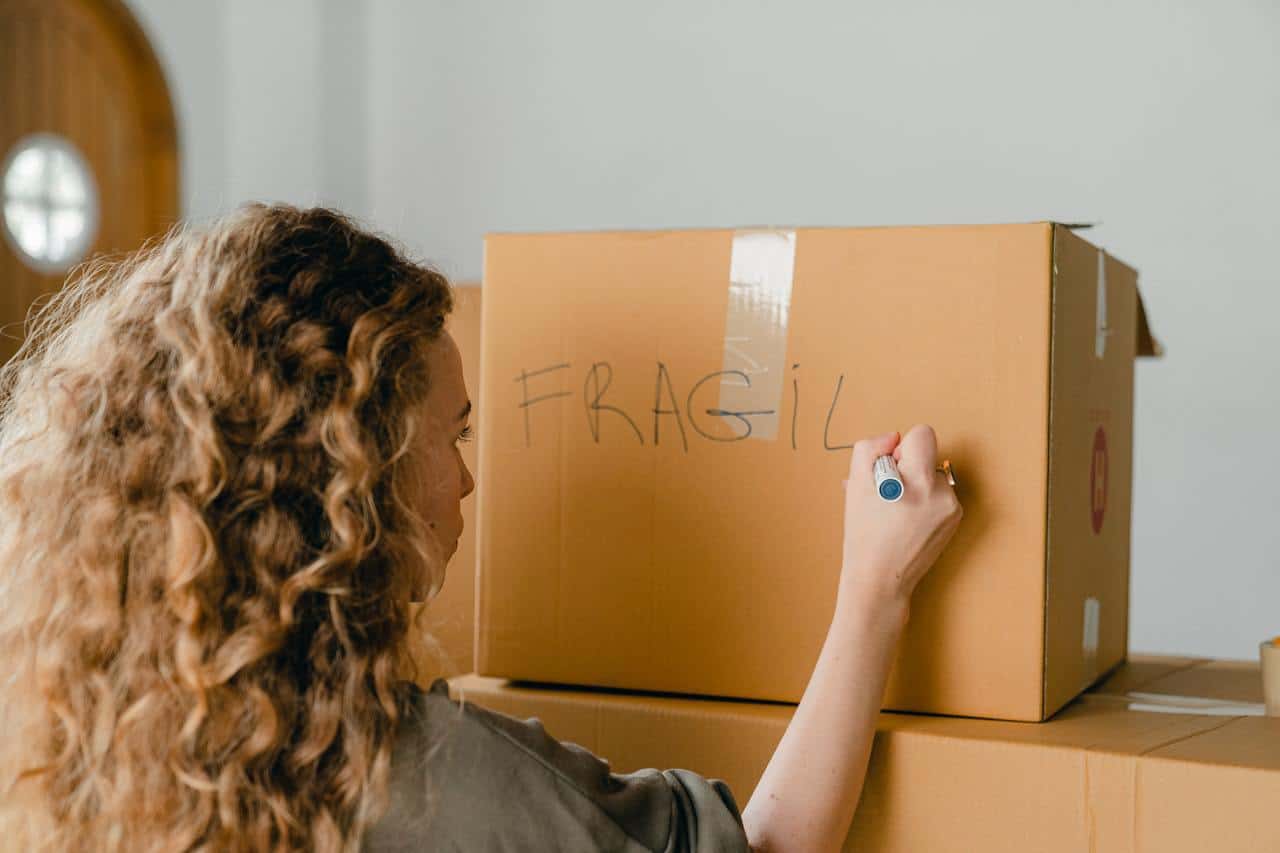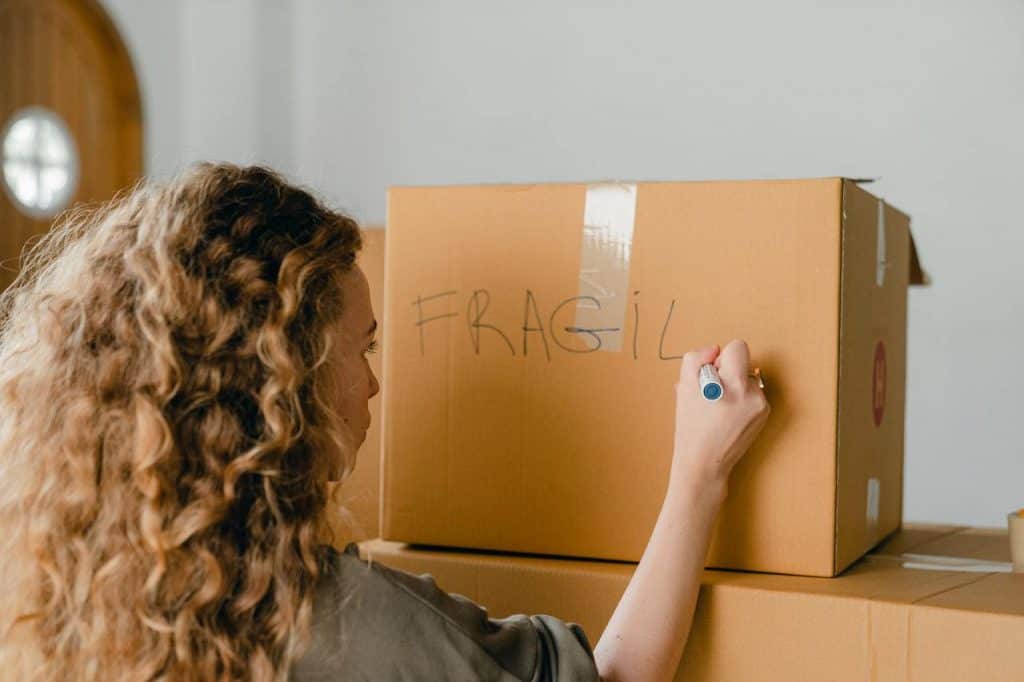 If you have items made of delicate materials such as glass or ceramics, know that there are special rules for handling them. These boxes should be loaded or stored without anything on top so that nothing that can fall on them.
Final thoughts
Packing fragile items takes a lot of patience and attention. One of the most common issues is overpacking the boxes. Tape and cardboard can easily break under pressure, leaving the box's insides on the floor and in pieces. To avoid this, make sure the boxes aren't too heavy, double wrap everything, protect weak points, and fill the hollows. Finally, the most important thing during packing is to give yourself enough time. Don't rush it – you will get the best results if you thoroughly plan the process and put a lot of care into it.