Once home to native tribes and then German settlers, Cypress is now an affluent city nestled just northwest of Houston. Residents can find employment in the city and take just a short drive to a suburban paradise. The area is now ranking at 50 on the top 100 highest-income urban areas in the country.
The area boasts some of the state's best in shopping, golf, and opportunities for enjoying nature. Cypress offers excellent amenities, beautiful homes, a robust business environment, and outstanding schools. Once an entirely rural area, Cypress offers several master-planned communities.
Cypress Real Estate & Communities
With an over 80% homeownership rate, the median home value in Cypress is $276,000. 78% of the homes in Cypress have three or four bedrooms. From homes for first-time buyers to extravagant homes, the many neighborhoods of the area offer superb amenities, low crime rates, and good schools.
The area has enjoyed higher appreciation that most communities in the country, with a 61% rate of appreciation over the last decade.
Here is a short list of Cypress' several beautifully appointed, master-planned communities:
Located at Hwy 290 and Barker Cypress, the community has 2600 homes priced from the $250's to the $900's. Coles Crossing is home to Coles Park wooded preserve that features a lazy river, playgrounds, exercise trails, and sports fields.
Made up of 3000 acres of lakes and trails nestled into 11,000 acres of this beautiful community, Bridgeland is a community offering a connection to nature. Josey Lake has kayaking, bird watching, and a zip line.
This 1600 acre community offers residents recreation centers, biking and walking trails, lakes, splash pads, and pools. With highly-rated elementary, junior high, and high schools all on-site, families have the best of everything right at home.
Home to the picturesque Blackhorse Ranch Golf Club, the community of Black Horse Ranch offers bass stocked lakes, peaceful parks, and pools. Many homes in the neighborhood are custom-built, with home prices ranging from $366,000 to $731,000.
Fairfield
The 3200-acre development began in 1988 and offers residents a 15,000 square foot athletic club, eight lakes, six neighborhood parks and pools, and greenbelt trails throughout the neighborhood. Homes in Fairfield range from the $ 220s to the $ 290s.
The Houston Chronicle is named Towne Lake, the Best Community in Houston. The neighborhood offers the largest private lake in Houston, at 300 acres, and a 6-mile continuous boat ride. Three of Cy-Fair schools are located right within the community. Kids enjoy the lazy river at the local waterpark.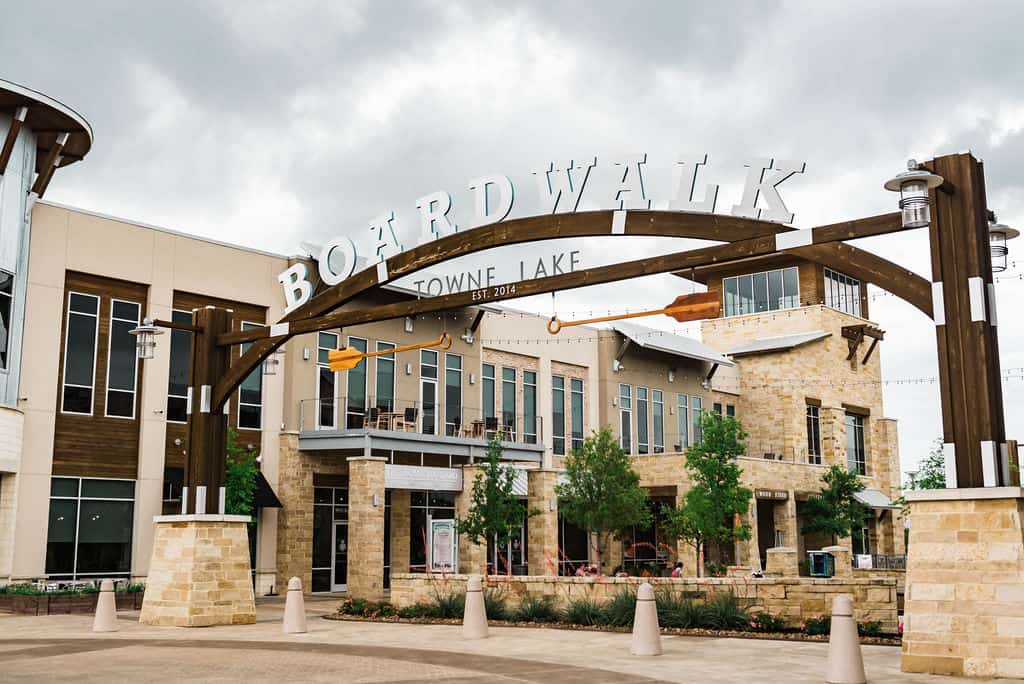 Basic Necessities & Services
Basic services and necessities are very much accessible and efficient in all communities of Cypress.
Property taxes in Cypress are handled by Cy-Fair ISD. Residents can apply for the 20% plus $25,000 homestead exemption with the Harris County Appraisal District. For more information on property taxes, visit HCTax.net or CFISD.net.
Traditional phone service can be set up through AT&T. VOIP service can be provided by most cable companies. Providers for cable and internet include Comcast, UVerse, Spectrum Cable, and others. Your realtor can help you determine the water district and trash service for your area. This is usually set up through the HOA.
Most, if not all, services can be easily contacted both over the phone and online. It wouldn't be difficult for your move to reach out to services you would need.
Schools & Libraries
Cypress-Fairbanks Independent School District is the 3rd largest district in Texas, with over 113,000 students attending 86 campuses. The district is the largest district in Texas to have 100% of campuses earning Met Standards honors. Many schools within the Cy-Fair district were rated Exemplary by the Texas Education Agency. The community is also the largest Recognized school district in Texas and has been honored with the "Superior Achievement" by the TEA's Schools First program seven times in a row.
There are private schools available as well for Cypress residents, including:
After high school, students can proceed or continue their education right in the Lone Star College Cypress Center community. The campus offers Associate Degrees and Certificates.
With plenty of services, including Storytime hours, Cypress area libraries offer public computers, free Wi-Fi, and book sales.
Businesses & Recreation
The pro-business environment in Cypress that attracts companies with low taxes and regulations. Industries that enjoy what Cypress has to offer include manufacturing, construction, education, energy, and healthcare. Sysco Business services established a shared services facility in Cypress in 2010.
While there are several shopping centers around Cypress, Houston Premium Outlets draw serious shoppers from miles away. For those who love to shop, shopping centers The Boardwalk at Towne Lake & Houston Premium Outlets are the places for you.
The Cypress area boasts upscale shopping, dining, and exceptional schools. Residents enjoy recreation and access to lakes not available in most communities in the Houston area. Welcome to Cypress, prepare to enjoy a new way of life.
For those who enjoy a stroll or other outdoor activities, Cypress area also has a place for you. Several parks, including wetlands, fishing, trails, exercise stations, and playgrounds are all over Cypress. Harris County Deputy Darren Goforth Park welcomes pets with its dog park.
Moving Resources
After reading what Cypress has to offer, we're sure you would love to start packing for your move. But why not hire a professional Cypress mover? A professional mover will get you settled into your new home and ensure a smoother and less stressful move for you and your family.
Using professional Cypress movers offers advantages:
Reliability and Accountability – They have been trained and are experienced in navigating the Cypress area.
Efficiency – They employ techniques that make the moving process simple, and they can more efficiently get everything out of your home and into your new home.
Meanwhile, to help you with your packing, Download our Blue Ox Ultimate Moving Checklist now to help you navigate the process.