The moving process can be stressful for us. Imagine just how stressful it can be for our pets. There are ways to help your little ones experience minimal stress on moving days. Doing things like planning ahead, choosing the right moving company, and consulting with your veterinarian can help you make your move safe and stress-free for everyone involved.
Plan Your Move
When you're planning your move consider the move and your new home from the point of view of your pets. One way to make it easier is to download and follow the Blue Ox Moving & Storage Ultimate Moving Checklist.
Then make sure that you add to your checklist preparing a survival kit for your pet, scheduling your vet appointment for before and after the move, advising your moving company about your pet, and other things that need to be handled for a successful move for your animal.
If your pet will be traveling a long distance, make sure you get them used to their crates early. Put their food inside while the door is open and let them get a feel for the space as they eat. As they get more comfortable shut the door while they eat.
Carry them around in the crate and take a drive around the block while they are crated. Make sure they have plenty of treats and lots of love after crate time.
Get your boxes early and allow them to investigate. As they explore the boxes, offer them a treat. Make sure you are being attentive to them while preparing for your move.
Keep their routine as consistent as possible. Walk your dog through your new neighborhood to help them get used to the new environment.
Moving fish takes extra precautions. A traumatic experience could kill them. If you're traveling a long distance, use their tank to transport them. Just make sure it's secured well.
Get your pet survival kit together and have it handy during the move. Include food, pee pads, towels, wipes, treats, water bowl, and their favorite toys.
Safety Check Your New Home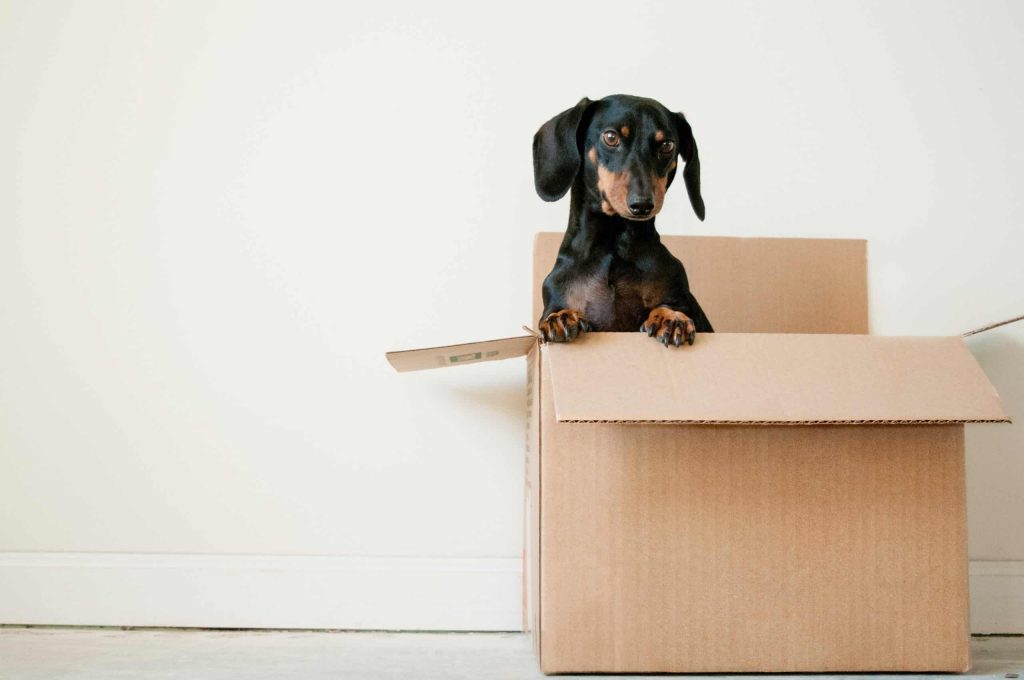 Of course, we are baby-proof in preparation for bringing a new baby home. We should do the same for pets! Make sure those electrical cords are tucked away, windows are screened, poisonous plants are removed, and that any pest-control poison traps are not inside or outside of your new place. Close off vents that cats can squeeze out of.
Consult with Your Vet
Schedule a vet visit to make sure your pets' shots, tags, and certificates are current. Ask your vet for any recommendations for the move. Get your pet's records if you're moving to a new area and have found a new veterinarian nearby. Update your pet's ID and microchip with new contact information and address.
Research Moving Companies
Thoroughly research moving companies, but make sure you do this as early as possible. Look for an experienced moving company with a positive reputation and great reviews. The right moving company can help to make the moving process less stressful for you and your pets.
When making your calls, let them know about your pets and any special accommodations. Blue Ox Moving and Storage can help with this! Houston's experienced and efficient moving and storage company can help make your move smooth and keep you and your pet anxiety-free.
Keep Your Friends Close
On moving day, don't leave your pets alone. Keep them close to you or have a friend care for them. If you can have someone onsite and guiding your movers, this will help you to focus on your pets for the day.
Consider boarding your pet for moving day. It may be better for them to be out of the way. Making sure you have reputable and efficient movers will help you get your move handled and back to your life.
When you get to your new place, give them one room to settle into. Put all their toys, treats, water and food bowls, and litter box in that space.
The moving process can be overwhelming but with the right planning and choosing the right moving company, you can have a successful move with minimal stress for you and your pets. We at Blue Ox Moving & Storage work to ensure that all the details of your move are handled and that your move is conducted safely and efficiently.
Blue Ox Moving & Storage is Houston's premier moving company. Our customers trust us to provide exceptional moving and storage solutions. See what they are saying about their moving experience with Blue Ox. Contact us today for your complimentary moving and storage estimate!