Whether you have a full glam wardrobe or just the essentials that get you from day to day when it comes time to move packing, all of it can be overwhelming. You don't want to ruin items as you move them from place to place.
There are tricks to packing every part of your wardrobe, from hats and shoes to handbags and accessories. Here we share packing tips that guarantee the most efficient methods for packing your clothing for your move.
Plan Out Your Wardrobe Packing
Like with the entire moving process, creating a plan and following it is the best way to ensure that your move is efficient and stress-free. When planning your wardrobe packing, you will have to decide what you will take with you and what you will do with clothes you are discarding.
Take Stock of Your Clothes
Look through all of your clothing, shoes, handbags, accessories, and hats. Decide which items you just can't part with and those that you've lost that loving feeling for. Hang all of your clothes so that you can go through them one at a time.
Layout the clothes in your drawers and lay them on your bed.
Decide what you will keep and what you are ready to let go of. Do this by asking if you have worn the item in the last 12 months, if it is still in style, if it fits and is in good condition, and does it fit your current style. Put those hanging clothes you plan to keep on the left side of your closet and take the others and place them in one of two bags – to donate or to sell.
Take the clothes you decide to donate and put them into your car to transport them to Goodwill, the Salvation Army, or a local church or homeless shelter. Some charities will pick these items up for you for free and provide a tax-deductible donation receipt.
Sign up for online marketplaces to sell those items that are trendy. You can also sell them through a garage sale or on consignment.
Those particular items that you are not ready to get rid of can be protected and stored in an air-conditioned self-storage unit. Blue Ox Moving & Storage offers reliable and safe storage options.
Preparing Your Clothes for Moving
Take all of those clothes that you have decided not to part with and wash them. If there is anything that needs to be dry-cleaned, get those dropped off so that you can retrieve them and start your packing process.
Being prepared and heeding professionals' moving and packing advice will make this process a lot less stressful and move along quickly.
Get Your Supplies Together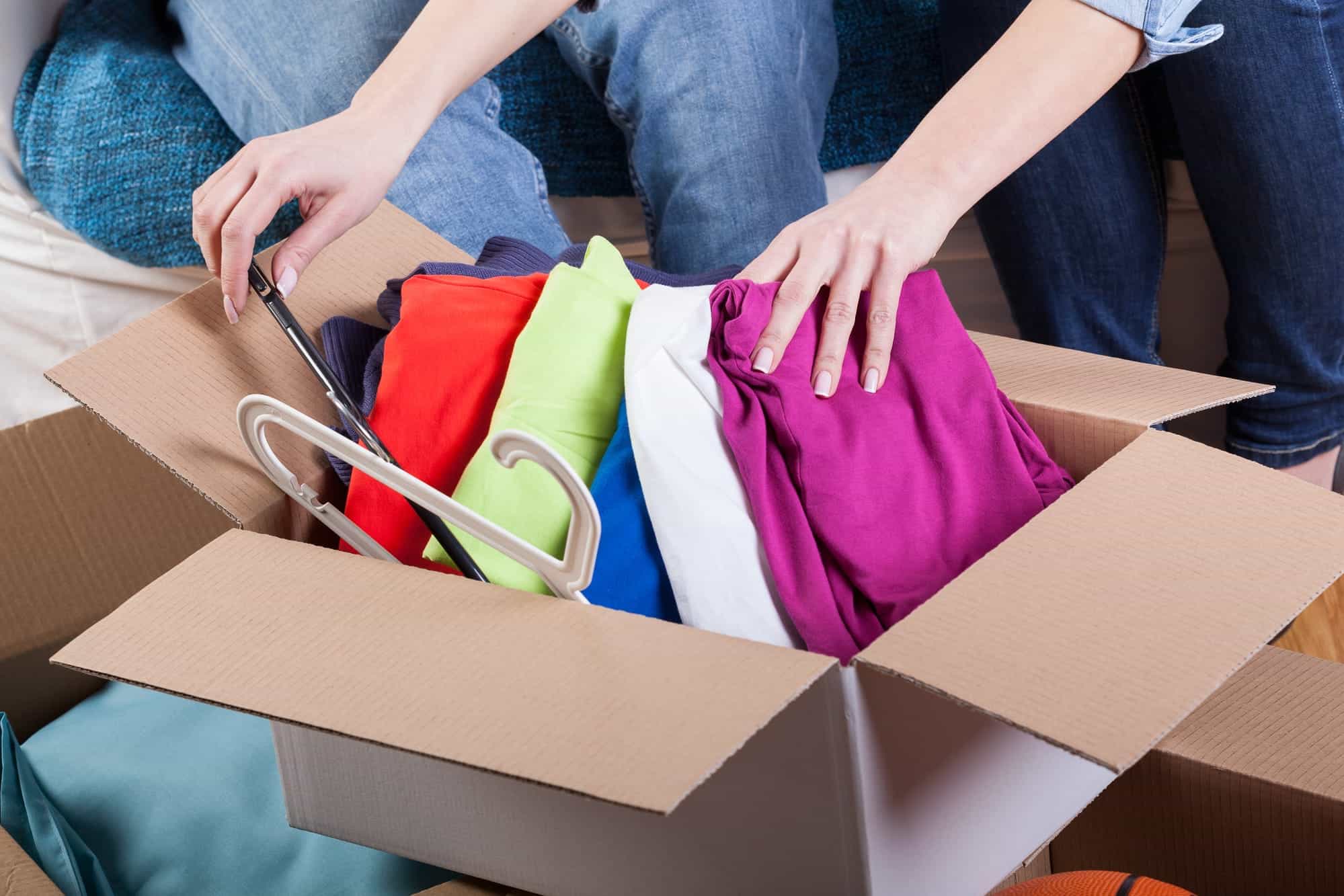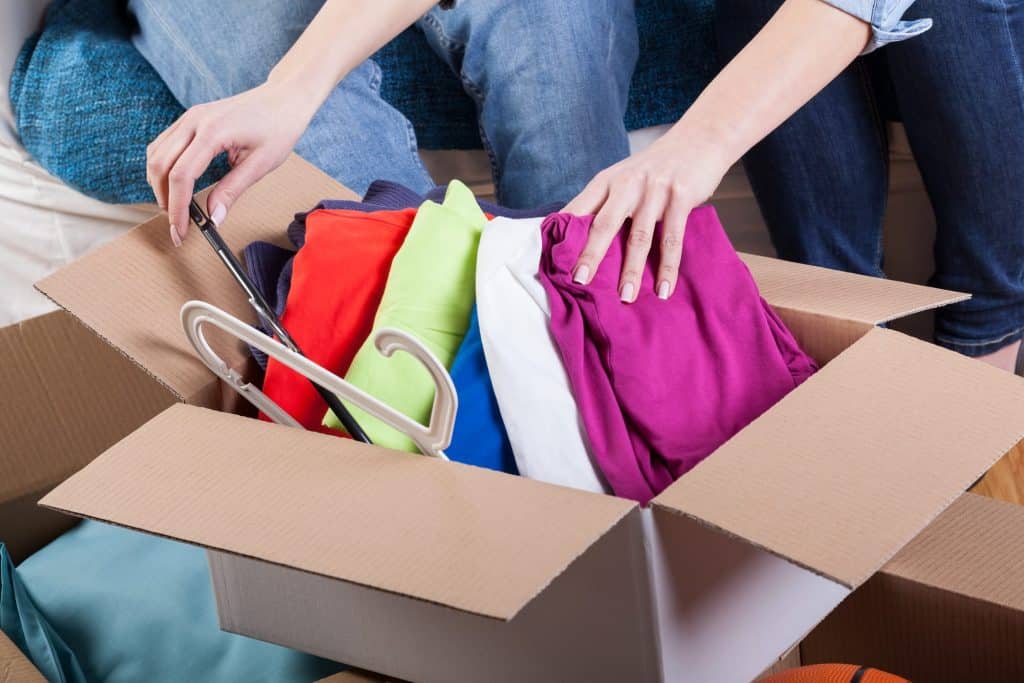 Blue Ox Offers Packing Supplies that will come in handy when packing your home for the move. Blue Ox Moving also offers packing services. Our professional packers can pack it all or just what you need us to handle.
Moving Boxes are great for packing the clothes in your dresser. You can find free boxes at recycling centers or local grocery stores. You can also purchase brand new boxes, and when packing your clothes, this is the best option as they are in excellent condition.
Wardrobe Boxes – take your clothes on hangers and transfer them over to a wardrobe box.
Bags that you already have around the house – garment bags, luggage, duffel bags
Vacuum or compression bags
Hat Boxes
Plastic Bins
Shoe Boxes
Plastic Storage Baggies
Packing Paper
Labels
Markers
Sorting Your Clothes
If you have a large wardrobe, it may help to sort them to stay organized. You may have your sorting system in mind. By all means, whatever makes sense to you is the best option. But these sorting categories can be helpful.
Material – You can divide them by the material they are made of cotton, silk, linen, denim, cashmere.
Season – This is great because you can leave winter items packed away if you are in the heat of a Houston summer. If it's winter, leave your tank tops and shorts packed away until the weather calls for them.
Sort by Clothing Type – Pack all of your pants together, shirts, shorts, and so on. This will make finding them easy when you get to your new home.
Family Sorting – This is a given. When you pack clothing for the entire family, do so separately. This is especially important when these bins or boxes are going into different rooms. Mark the box or bin with the room or family member it belongs to and any other notes that would be helpful.
Be Creative and Smart
You can opt to move some of your clothing in the dresser drawers as long as they don't make the furniture too heavy for movers. Ask your moving company if this is possible. Only leave lightweight items in the dresser. Use plastic freezer and sandwich bags for your jewelry.
Packing with Cardboard Moving Boxes
Those plastic storage bins can be expensive. For this reason, cardboard boxes are the best option. Follow these tips to make it a breeze:
Choose small to medium boxes. Assemble them and secure them appropriately with packing tape.
Line the bottom with packing paper to protect your clothes. Use another layer of packing paper on top.
Tape your box and label it using a marker. Write directly on the box or use color-coded labels.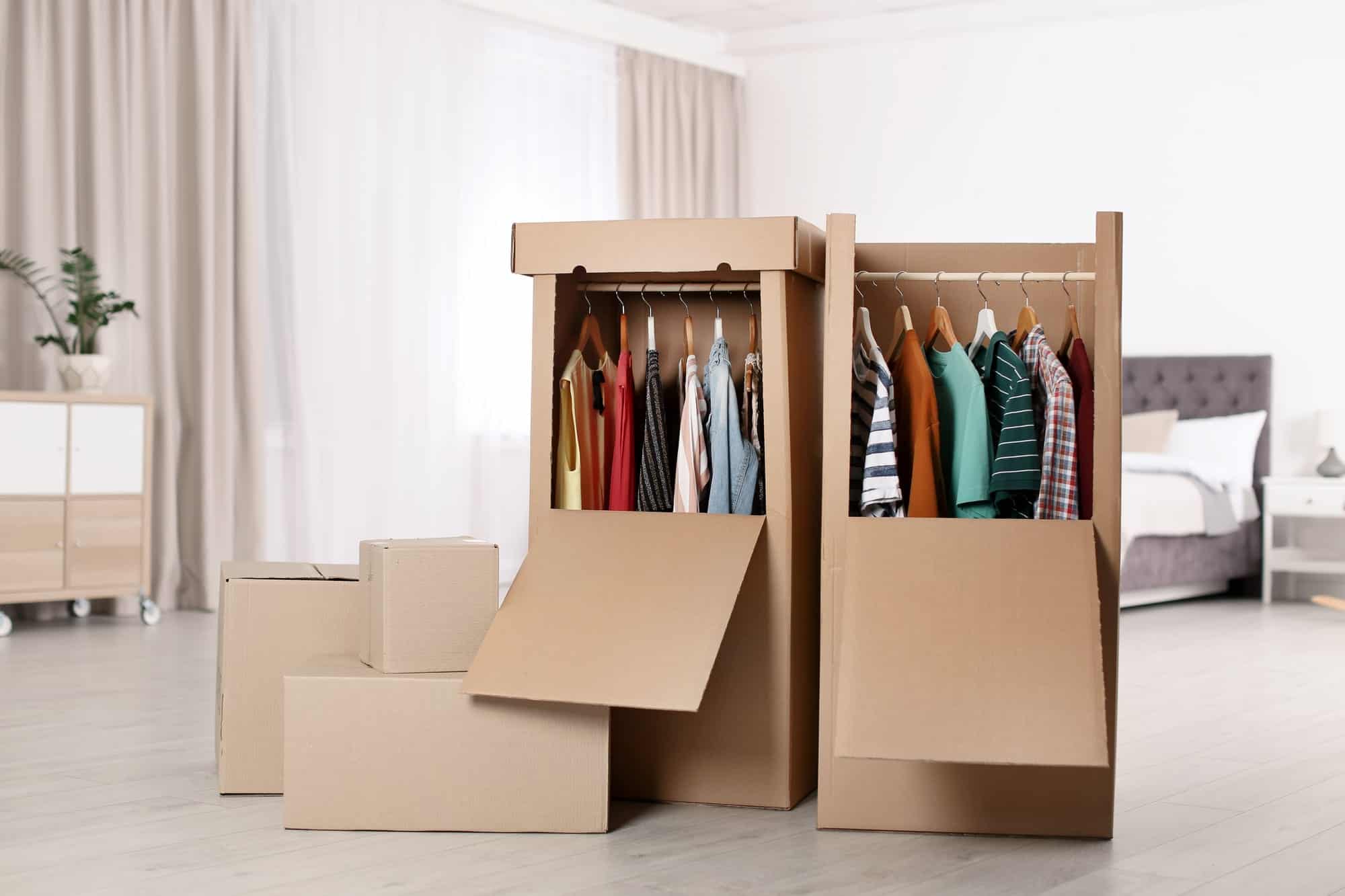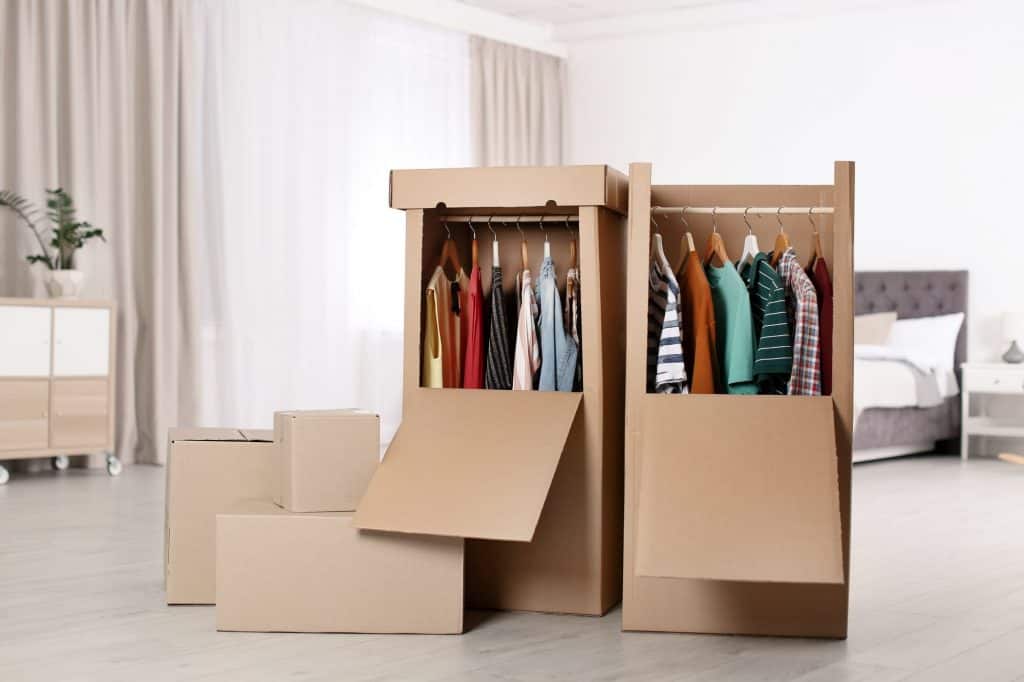 Take Advantage of Wardrobe Boxes
These are great for packing your suits, skirts, dresses, and other clothes that live in your closet. They come complete with a metal hanging bar. Portable clothing racks also come in handy during a move. They are wheeled, making it easy to move them from one place to another. Don't forget to protect your clothes using garment bags. You may be able to get some of the plastic ones used by dry cleaners.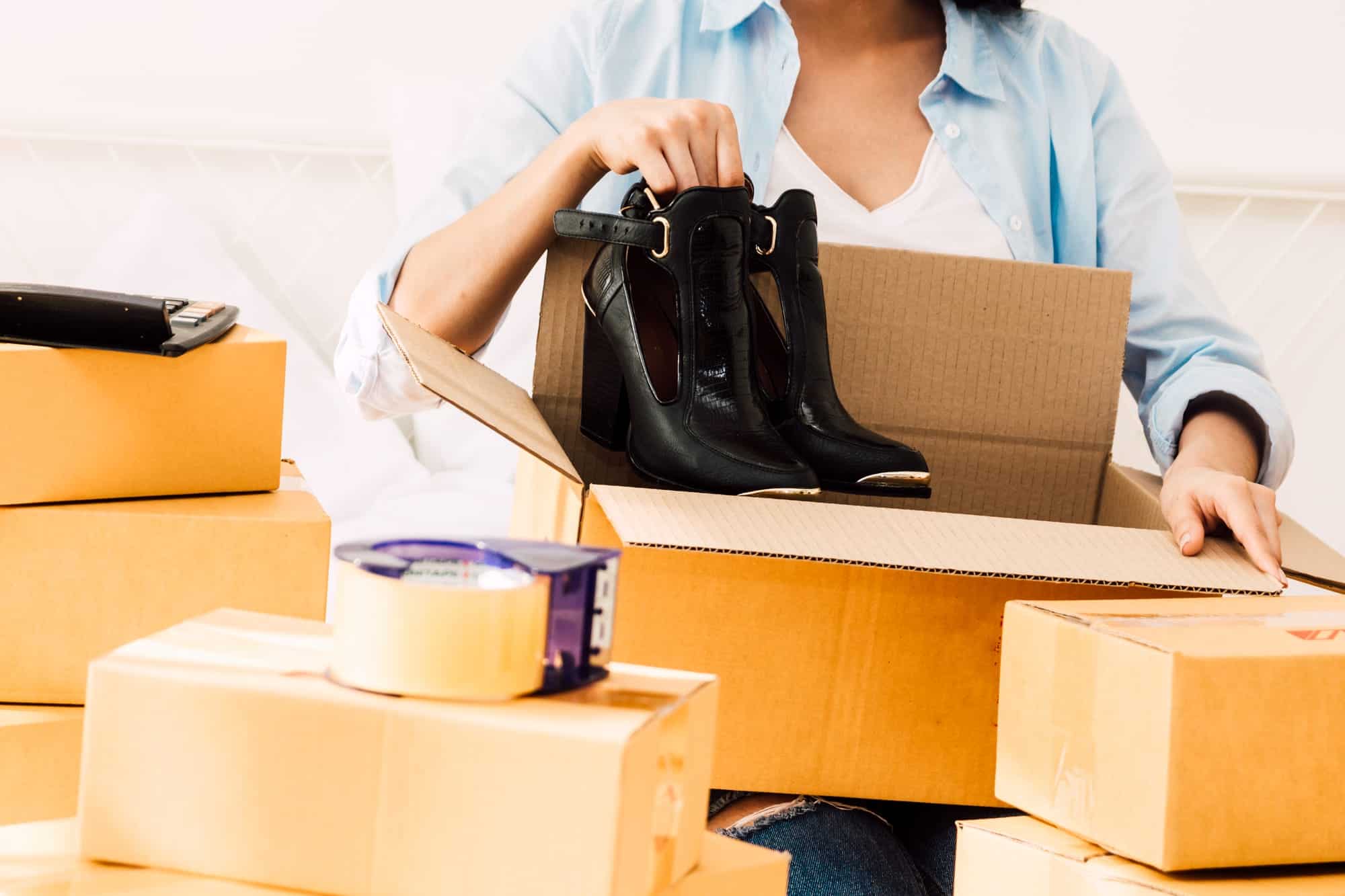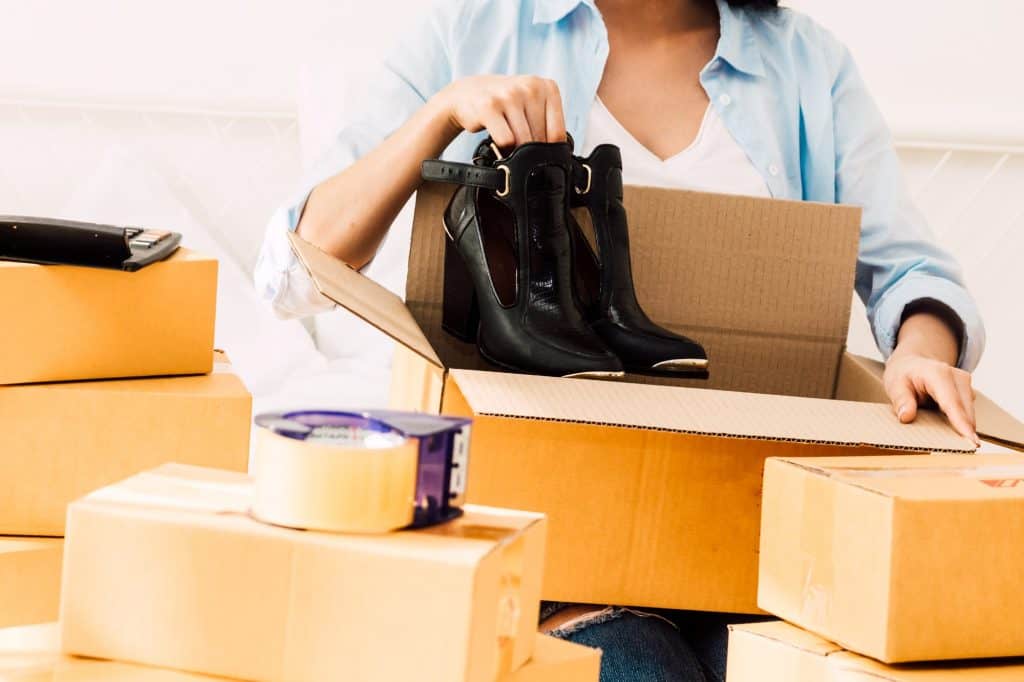 Packing Your Shoes
Throwing your shoes in a bag and carrying them to the new place is not the best plan. To perfect your shoe packing game, follow these tips:
Use the shoeboxes that they originally came in. Use tape or rubber band to keep the top attached. If you don't have those original boxes, pick some up at The Container Store, Target, or Walmart for just a few bucks.
Use packing paper to protect them before storing them in your shoebox. Fill the space within the box with packing peanuts, newspaper, or towels.
Now that you've developed a plan and are ready to begin your packing, order your supplies and get started. To ensure that your entire move is efficient and stress-free, hire the best movers in Houston. Blue Ox Moving & Storage has been providing Houston homeowners, renters, and businesses stress-free moves for many years. When you partner with Blue Ox, you know that you have professionals coordinating and executing your move to perfection. Get your complimentary estimate now by calling us now.