When you're moving, there is so much to do to prepare. The most time-consuming task is packing all of your belongings. And it's essential that you pack properly. This ensures you make the most of the moving boxes and space in the moving truck. This is why many people use professional packing services when moving to a new home.
Why the Packing Method Matters
Packing properly ensures that those valuables you hold dear are safe during your move.
Packing in an orderly fashion and labeling makes it easier to find what you need in your new home.
The professional packers at Blue Ox Moving & Storage are experts in whole home packing. Here we share exactly how you should pack your accessories and more when moving.
Packing Your Clothing
Before packing your clothes, take a mental inventory of your clothes.
Discard, sell, or donate any items you don't wear or need anymore.
Dry clean clothing before you begin to pack them.
Sort your clothing by piece. Pack all pants together, and do the same with shirts, and shorts, until you have everything packed.
Make sure you pack each person's clothing separately and label the boxes.
Packing Your Folding Clothes
Choose exactly how you will fold your clothes for packing before loading them into the moving box.
Flat folding: Flat folding is how most people pack their clothes when putting away laundry, packing for travel, or moving. You would fold a shirt by laying the shirt face down, folding one side of the shirt and sleeve to the middle of the shirt, and smoothing it into place. You will then do the same for the other side of the shirt. Next, you will fold the bottom part of the shirt up to the top and smooth out the wrinkles. Fold your pants and shorts one leg over the other, fold in thirds, and smooth away any creases. Check out this folding method here:
Military packing: Another popular method of packing clothes is the military roll. It maximizes space and helps to avoid wrinkling your clothing. Lie your shirt on a flat surface and flip the bottom part of the shirt outwards. Then fold your sleeves inwards. Fold the shirt into the middle of the shirt. Roll the shirt down tightly and use the pouch made by flipping the bottom of the shirt to complete the roll by folding it up over your rolled shirt. Check out this folding method here:
Kon Mari Method: Marie Kondo has taken the world by storm with minimalist organizational and folding secrets. Check out her folding method here:
Packing Your Hanging Clothing
Wardrobe boxes are an easy way to move your clothing. They are designed to leave your items on their hangers while moving. Tucked inside is a metal hanging bar.
Packing Out of Season Clothing
The best way to pack away your out-of-season clothing is to use a vacuum or compression bags. Use them for your move and use them again when the seasons change.
Packing Clothing in Your Dressing Chest
Ask your movers if they would prefer that you empty your drawers before doing this. If they allow you to leave them in the dresser, take out heavier items, and use plastic wrap to keep the drawers shut. If your movers want the drawers emptied before moving your home, pack them using one of the folding methods discussed earlier.
Extra Tips for Packing Clothing
Keep hanging clothes on their hanger
Line suitcases and boxes with packing paper before filling them
Use plastic baggies for jewelry
Packing Your Shoes
If you have your original shoe boxes, leave them there for your move. If not, you can pick up plastic shoe boxes from the Container Store for a few bucks each. Once you're in your new home, you can use them to keep your closet organized. Shoe bags are also available to keep your shoes in good shape. To further protect them, wrap and stuff each shoe with packing paper.
Now that you have decided on your packing method, let's make sure you have everything you need for packing your clothes for the move.
Cardboard moving boxes: You will use these for packing your folded clothing.
Wardrobe boxes: These will be used for your clothing on hangers.
Suitcases and Duffel Bags – You have to move them anyway, so use them to transport your clothing.
Vacuum Bags: Use these reusable storage bags to pack your out-of-season clothing.
Packing Your Books
It's important to purge your collection before you begin to pack your books. Sell or donate any books you won't be taking with you to your new home. You'll then group your books according to size. Pick up moving boxes appropriate for books. Small boxes are best as books can be heavy.
Prepare your small boxes by sealing the seam with tape and line the inside of the boxes with packing paper. When you begin to pack, place the heaviest books on the bottom and the lightest on the top. Use packing materials or clothing to fill any gaps. Then label your book boxes.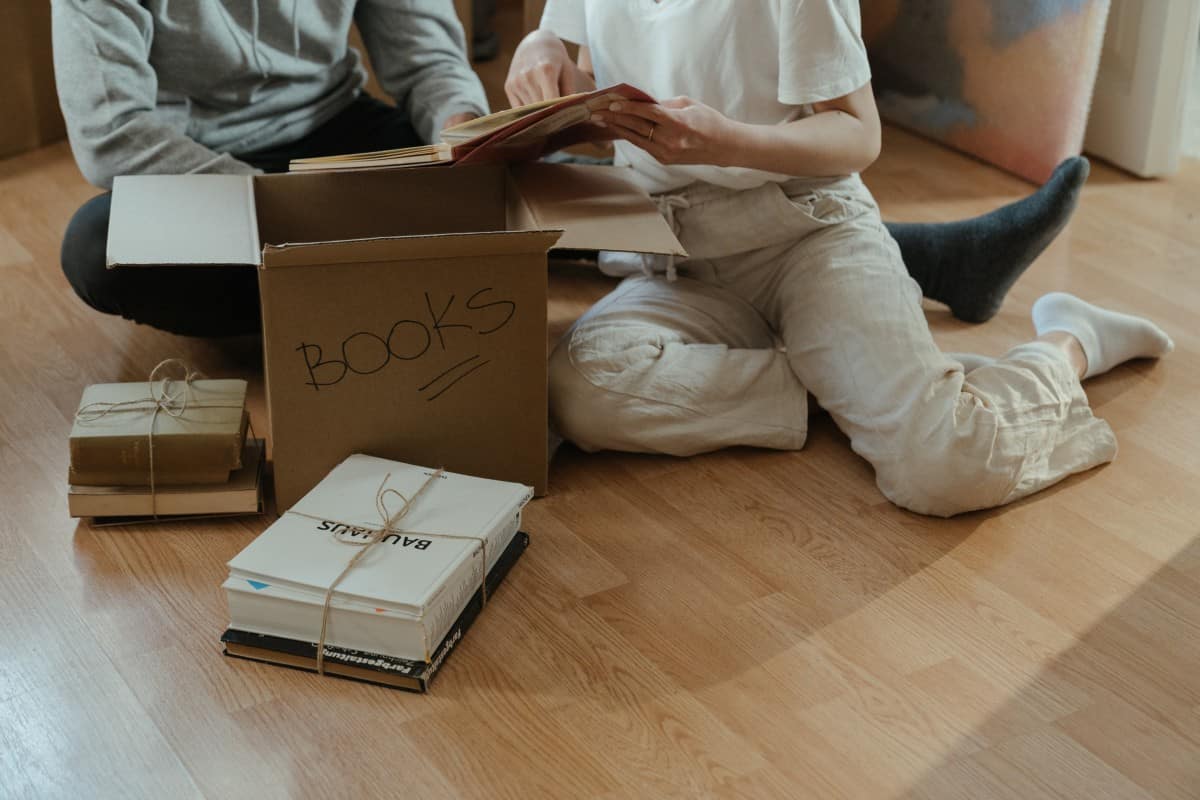 Packing Glassware & Dishes
Kitchenware is easy to break while moving. But there are ways to pack them to keep everything protected.
Start by purging old or broken dishes and glassware. Donate or sell items you don't want to keep that are still in good condition. Next, you'll put aside plates and glassware you'll use until your move. If you would rather not keep any out, purchase paper plates and plastic cups to use in the meantime.
Put your boxes together using the dish packing kits to properly separate items. Then place packing paper or foam on the inside bottom of the box. Place your plates and glasses into the foam protector pockets before putting them into the box. These items keep your items in place and protect each piece during the move.
When packing your plates and bowls, wrap them with packing paper or slide them into the foam protector pockets in dish packing kits. Secure the pockets or paper with tape before placing them in the box.
For cups and mugs, use bubble wrap and tape to secure them. Use packing materials or kitchen dish towels to fill any spaces in the box. Pack your glasses and stemware with extra bubble wrap or two foam protector pockets. Fill any spaces in the box with packing materials.
Take extra care when packing your china and crystal. Use packing paper and bubble wrap to secure them with several layers. Fill the inside of glasses with packing paper or more bubble wrap. Use the original box for packing China if you still have it.
Extra Tips for Packing Your Glassware and Dishes
Label Your Boxes with what each box contains and the word FRAGILE.
Use Dish packing kits, packing tape, packing paper, foam protector pockets, and sharpies.
The best boxes for packing fragile, heavy items are small to medium moving boxes.
When packing plates, be sure to place them vertically in the box – not horizontally.
Packing Artwork and Wall Décor
Make sure you have all the proper supplies before packing your artwork. You'll need the right size boxes. When packing small frames, pack them with like-sized frames in a small box.
Wrap each piece and fill in any gaps. All fragile artwork should be bubble wrapped and secured with packing tape. Label them with the word FRAGILE.
Packing Home Décor
Home accessories and décor should be packed in the appropriate size boxes depending on their weight. Each piece should be packed into its own box. Pack heavy pieces into boxes lined with packing paper or bubble wrap for cushioning.
Extra Packing Tips
Don't overfill boxes.
Take those valuable or priceless items with you in your car.
Professional Packing Services
Using all of these tips will protect your items for your move. If you're considering leaving the packing to the professionals, here are some reasons why many of our clients opt for our professional packing service:
Reduce the Risk of Damage: Our professionals know the best packing techniques to keep your artwork, electronics, dishware, and accessories in good condition.
High-Quality Packing Materials: We use only high-quality packing materials to protect your belongings.
Takes the Task Off Your Plate – Moving can happen during the most inconvenient times. And there is so much that you have to manage. Delegating this time-consuming task to professionals can help make your move stress-free.
Blue Ox Moving & Storage offers efficient and expert professional packing services. Contact us today for your quote.
Blue Ox Moving & Storage Is Here To Help
Are you preparing for a move? Remember to download our Ultimate Moving Checklist, and when you're ready to start packing for your move, head to Blue Ox Moving & Storage for your packing supplies and moving boxes. For a professional move, choose Blue Ox. Our team is experienced and respectful of your property, and we are licensed, local, and insured. Reach out for your complimentary moving estimate today.